How To Become A Heavy Machinery Operator –  Heavy machinery operators build roads, construct buildings, and contribute to transportation infrastructure. Operators can work for government or private employers.
Most of the work is done outdoors and work is often seasonal.
Trained operators strictly follow safety procedures and are highly skilled in machine operation and maintenance.
In this article, we will discuss the Heavy machinery operators job description, average salary and frequently asked questions about this career path.
Here are 6 ways to become heavy machinery operator:
How To Become A Heavy Machinery Operator
Heavy machinery operators can start working on a construction team to gain experience or apply for an apprenticeship to learn by doing.
Traditional colleges or technical schools can provide education and help you prepare for exams and permits.
Here are the steps to become a heavy machinery operators:
1. Earn a High School Diploma or GED
Heavy machinery operators need a high school diploma or GED to enter an apprenticeship or technical school.
General courses that may be useful for future heavy machinery operators are:
Mathematics
Shop, and
Auto Technology
2. Take and Complete Heavy Machinery Training
Traditionally, there are three ways to receive training to operate heavy machinery.
The first two involve joining a union or a state apprenticeship for on-the-job training and more job potential upon completion of the apprenticeship.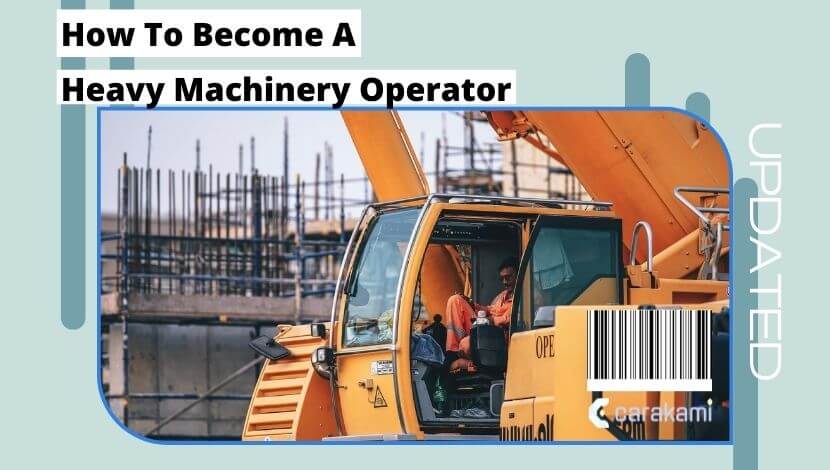 A third alternative is a college or technical school that provides training and preparation for licensure.
2.1 Unions and state apprenticeship
Union or state apprenticeships are usually for students with little or no experience.
Operators may be required to register with the state, although these regulations may vary from state to state.
Apprenticeships include both classroom training and on-the-job training, and students can earn tourist-level salaries.
Classes are typically small, which means students can spend a lot of time studying with instructors.
Apprenticeships can last from three to four years. For some people, it's possible to earn credit for a construction degree.
Apprenticeships provide more comprehensive training as schools and students learn to use a wider variety of devices.
2.2 College or Technical School
These schools may not be able to provide as much practical experience as an apprenticeship.
Students learn about equipment regulations, safety equipment maintenance and repair, soil science, site grading, and reading blueprints.
Technical schools take one to two years to complete.
Some schools may offer training on a simulator before moving to a real machine.
Schools may offer specialized training for specific equipment such as cranes or drilling equipment.
2.3 Classroom Training
Classroom training includes learning safety policies and procedures as directed by the Occupational Safety and Health Administration.
Classroom work teaches the use and implementation of protective safety equipment and pre-operational procedures.
Classes may include hazardous waste disposal instruction.
Students learn how to maintain and repair equipment and how to use tools such as a soldering iron or soldering iron.
Courses may also cover gasoline and diesel engines.
Classroom learning includes teaching:
Machine Operation
Site safety
Tires and rims
Fuel and fuel system
Inspection, repair and maintenance
Clearing plans, methods and machines
Fire and fire fighting
Transmission system
Soil and soil analysis
Professional success
2.4 On-The-Job Training
On-site training includes operating heavy equipment to gain operating experience.
Students learn to level, landscape and dig.
Techniques learned may include scraping, compression, and using controls.
Field experience means learning:
Engine operation
Refuel and charge the battery
Maintenance and inspection of heavy equipment
Check the website
Maintain device records and logs
Site preparation, commissioning and surveying
Signal
Clearing
Check points
Basic hydraulics
Construction plan
Soil test
Compact the soil
Working in a muddy environment
Truck load
Safe moat
3. Get A License or Certification
Depending on the job or employer, equipment operators may need a certificate or permit to operate machinery.
For example, crane operators need a state license or certification from a national organization such as the National Commission for Crane Operator Certification to operate a mobile or tower crane.
The certificate is valid for 5 years and operators can take ongoing training and go through a renewal process (which may include retesting) to keep the certificate up to date.
Maintaining certifications and licenses ensures stable work and opportunities for advancement.
Certification and licensing exams include written and practical exams. Check out the written exam:
Mechanical aptitude or understanding
Basic Mathematics and Calculus
Troubleshooting script
Testing and measuring skills
The practical exam involves performing a series of tasks given by the instructor on a series of circuits.
The exam tests your mechanical knowledge, dexterity, and eye-hand coordination.
4. Get a Commercial Driver's License
Heavy machinery operators may need to drive trucks and trailers that transport heavy machinery operators from one job site to another.
To do this, the business needs a commercial driver's license or CDL.
Requirements vary by state, and some apprenticeships and colleges may offer programs that include obtaining a CDL.
5. Update Your CV
If you update your resume to reflect your education and experience, be sure to update your career goals or qualifications summary as well.
Tell your employer why you work with heavy machinery operators and what you want to achieve.
Here are some example of goals for a heavy machinery operators resume:
Experienced operator who worked as a heavy machinery operators at Newmont. I am interested in improving safety during surface mining operations.
Seeking a Heavy Equipment Operator position for Hammerhead Construction. You can use your knowledge of backhoe operation and maintenance to minimize injuries and property damage.
As a heavy machinery operators for Hunt Her Transport his services, I hope to use my experience in improving road and transport infrastructure.
6. Keep Learning
Job growth is expected in the construction industry, guaranteeing opportunities for advancement, according to the Bureau of Labor Statistics.
Heavy machinery operators may become foremen or supervisors or aspire to project or senior management.
Some operators end up opening their own construction or contracting companies.
Also Read: Cara Root Nougat Cepat
Conclusion
Those are 6 ways to become heavy machinery operator, especially you have to update your CV or resume.
You have to remember that the average salary for a heavy equipment operator depends on a number of factors, including education level, years of experience, job function, and location.
Orang juga bertanya